Door Dings and Dents repaired using PDR
Do you have a ding in your door? A dent in your tail-gate? Did a shopping cart smash into the side of your car? Ever been hit by a deer? I know, the ladder or the rake fell in the garage and hit your brand new car. What are you going to do? Call Jake at Dent Werks PDR and make an appointment to repair the dent and make your car look brand new again. You see, Jake is known as one of the best in the business. Jake Kelm has placed in the Top 10 of an International PDR show called the Dent Olympics. In 2010 and 2011 Jake placed 6th in the world at the Dent Olympics. In 2012 Jake won the Dent Olympics. What does that mean for you? It means that Dent Werks PDR will not only repair small dings and dents perfectly but Dent Werks PDR can repair many larger dents using PDR that several years ago was not possible. Do you have a car, truck, SUV or van covered in hail dents from front to back? No worries, Dent Werks PDR is insurance company approved and body shop preferred as the best method of hail dent repair.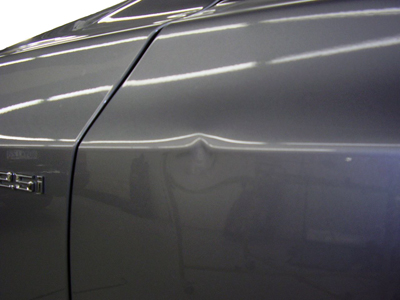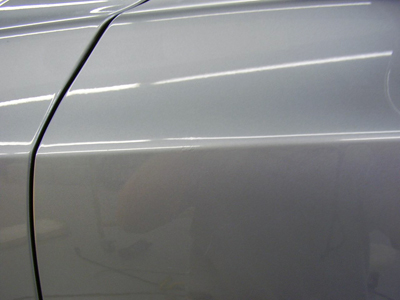 This BMW X3 was repaired using paintless dent repair from Dent Werks PDR. The dent repair took less than 2 hours to repair even though the dent went across the body line. By using PDR paintless dent repair the original paint and finish was maintained resulting in a perfect repair. If you have dents or dings like this one on your car, truck, SUV or van don't hesitate to call the experts at Dent Werks PDR to schedule an appointment.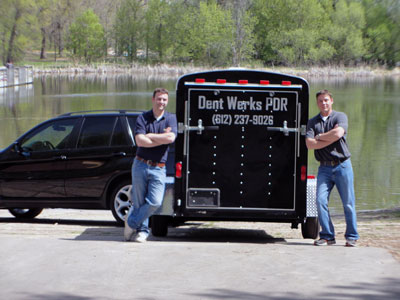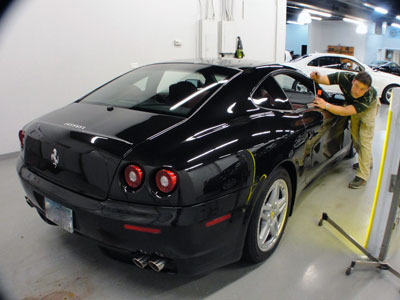 It doesn't matter if you have a Ford or a Ferrari, Dent Werks PDR can repair them all. Dent Werks PDR has mobile service, too. If you have a hail dented vehicle we need to repair the dents at our PDR facility in Delano, Minnesota. While most repairs take less time than a typical lunch, hail repairs may take several days. Dent Werks PDR works with your insurance company to insure that all your hail dents are repaired along with any moldings or trim pieces that may have become dented from hail damage. Dent Werks PDR works closely with several local auto body shops. These auto body shops are some of the best in the Twin Cities area. This allows Dent Werks PDR to repair your hail damaged vehicle from paintless dent repair to painted repairs when needed. Dent Werks PDR offers mobile service, when needed, or Dent Werks can pick up your vehicle at your home or office and drop off a rental car at the same time. Dent Werks PDR will return your repaired vehicle as well.